10 Temporary Decorating Ideas to Make Your Rental Feel Like Home
One of the joys of military family life is trying to make a temporary house or apartment feel cozy. This can be more challenging when you are renting or living on base and are unable to do things like painting, updating appliances or drilingl things into a wall. Never fear! Here are 10 easy ways to decorate your rental home to make your temporary residence feel like home.
(This post probably contains affiliate links. Our full disclosure policy is really boring, but you can find it here.)
1. Update windows using window film
In several of our homes we've had awkward windows at the front door or in the bathroom. While curtains are an option, oftentimes we don't really want to purchase specialty to decorate our rental home since they likely won't be used in the next home.
A quick, temporary DIY fix for windows that allows light but blocks view in or adds color to the room is using Artscape window film.
Just cut the film to the window size, spray a little soapy water, press the film on to the window with the provided squeegee and you are done!
2. Throw Down Some Rugs
Replacing flooring is usually not going to happen in a temporary home, but adding a rug you love can quickly change the feel of a room.
Rugs bring warmth, color, and texture to a previously bland room. Additionally, rugs can help define a large space into smaller, purposeful areas.
Using rugs of different texture and patterns is a great way to transform any room as you decorate a rental home!
3. Create a kids art gallery with reusable putty
Nothing makes a child prouder than hanging his creations on the wall!
Using Elmer's Tac 'N Stik Reusable Adhesive you can hang all of the artwork created at home and school in a playroom, bedroom, or anywhere you'd like to create your little one's art gallery without damaging the wall or the art.
4. Decorate with washi tape
Washi tape comes in a wide array of colors and designs so the possibilities of decorating with washi tape are nearly endless! Washi tape is a perfect solution for decorating areas of your rental home or base housing.
Decorating a plain, white, typical builder-grade door with washi tape creates adds color and interest to a room while making a previously bland door standout.
Additionally, you can use washi tape to create an accent wall like the wall pictured below by Everything Emily since it is easily removable and causes no damage to walls.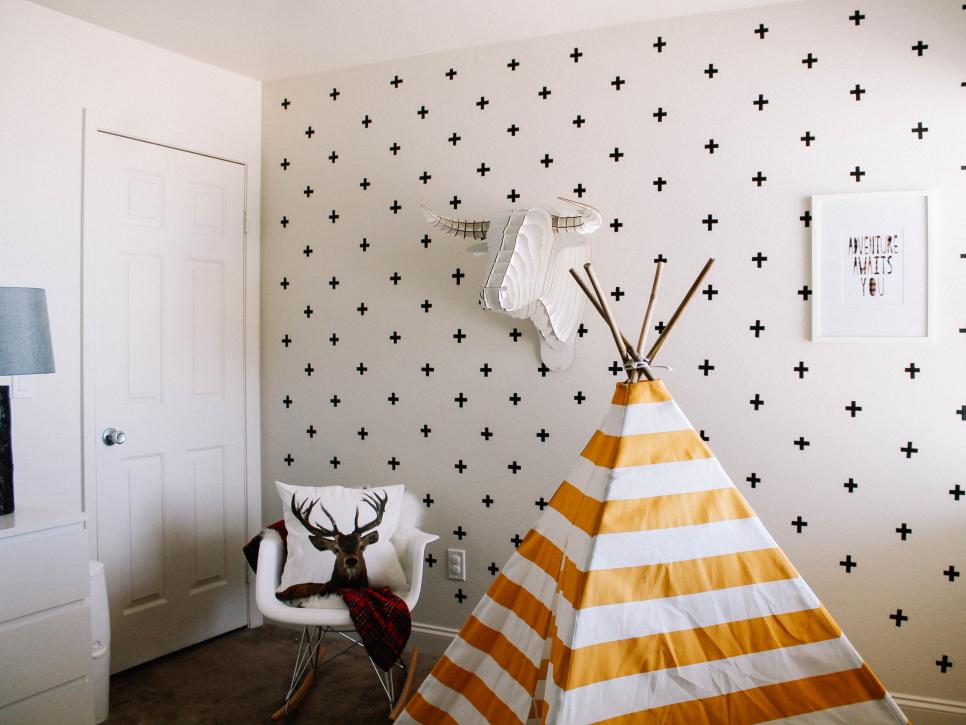 5. Try stainless steel contact paper
Many rentals come with older or basic appliance models. While these appliances function well, they don't always go with your decor dreams.
With some stainless steel contact paper, a dose of patience and following the guidance of Julie Blanner, you can make those appliances look updated and high end as you decorate your temporary home.
6. Use tension rods to hang fabrics and curtains
Tension rods are a great tool for changing a room without damaging walls in a rental home or base housing.
With one long tension rod you can divide a room into two spaces – such as an office and a playroom.
You can add color to a bland wall by hanging fabrics from a tension rod. You can even hang curtains without having to use a drill that puts holes in the wall.
7. Add plants
Bringing the outdoors inside with the addition of plants is a great way to improve a boring space in your home.
Not wanting to have the responsibility of keeping plants alive? (I get it – I'm awesome at killing plants!) Even fake plants can add a splash of color to a room and create a warmer feeling of home.
Some of my favorite, realistic looking faux succulents have come from Target!
8. Utilize Command Hooks
How we functioned before Command hooks is beyond me! Their uses are endless when decorating a rental home.
From installing under cabinet lighting in the kitchen to hanging curtains, wall art and wreaths, Command hooks really do it all!
9. Add a headboard decal
If you find yourself without a headboard but aren't wanting to purchase another piece of furniture (that may not fit in your next home) you can achieve the look of a headboard without the price!
Add some interest to a bedroom with this Moroccan Pattern Headboard Decal that is easy to remove without damaging walls.
10. Update an unframed mirror
Bring some character into a bathroom that has an unframed mirror by adding trim! Have trim cut at your local hardware store and instead of glue to attach the trim, simply use velcro strips.
The benefit of this approach is when its time to move you can take the frame with you!
For details on how to frame a basic bathroom mirror for $20 or less, visit the Frugal Homemaker.
---
You may also be interested in…
---